DIVE INTO THE ARCHIVES!
---
We're making big changes to our online store today. Our t-shirts are no longer priced at $29 USD (1,255 PHP), but at less than half that at only 599 PHP!
Notice I didn't include a USD amount in the second price. In order to keep our prices low for the majority of our supporters, we're only including shipping within the Philippines.
But we'll still happily ship you our goods! Email store@ferdinandcc.org for our current international shipping rates, and to arrange your order!
---
Buying goods from our store not only helps make an art student's dream come true, it helps them to feed and educate street children. We depend on purchases and donations from generous supporters like you, so they really make a difference.
---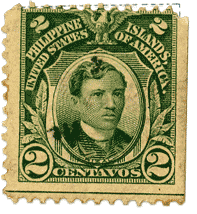 José Rizal, noted Filipino linguist, novelist, poet, scientist, doctor, painter, educator, reformer and visionary thought leader, turns 150 years old today. One of the t-shirts in our new shop, designed by Filipino artist Dan Matutina (interviewed here), was inspired by Rizal's quote, "Ang hindi marunong magmahal sa sariling wika, ay higit pang amoy sa mabahong isda." (Translation: "He who does not love his own language is worse than an animal and smelly fish.") Why not help us get our Center built by purchasing it?
Check out the shirt after the break, and read an English translation of Rizal's final poem, Mi Ultimo Adios (My Last Farewell).
Read More Inside…
---
It's my great pleasure to announce the launch of our online store! Currently we've got t-shirts up for sale, all lovingly designed and hand silkscreened in the Philippines. This has been a much greater undertaking than I originally imagined. Shipping products from the Philippines to other countries is more expensive than we'd like, but we've worked out a solution so that you can get our products at a reasonable price with the cost of shipping included. I'll say that again: free international shipping on all items in the store!
To celebrate the launch of our online store, we created a little video with the help of some of our supporters and future students. Check it out, and then head to our store and buy some merch!
All proceeds will go towards the construction of our Center, to help artists who can't afford college, and to feed and educate street children.
Read More Inside…