DIVE INTO THE ARCHIVES!
This post is part of a series of posts on artists, designers and illustrators making their way in the Philippines.
---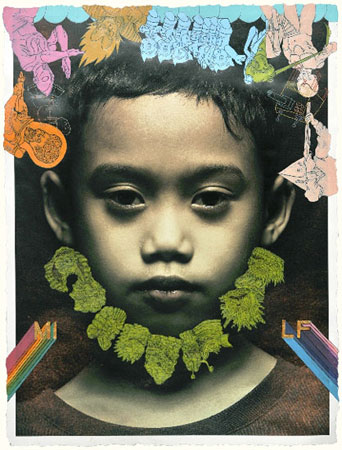 Right: The Man–Child. Popular cartoons flock the headspace of this eight-year-old boy, yet a beard amasses on his chin. This work displays the contradiction of a child mentally growing in an accelerated mental state that sprung from his exposure to adult activities and innuendos found in paraphernalia he is exposed to.
Dex Fernandez, a fine arts and advertising graduate from the Technology University of the Philippines, quit his job at an advertising firm to become a full-time artist. And the art world is better off for it. His art transports the viewer to another land—a tea-stained technicolor mash-up of the darling and the sinister—where both children and adults play with imaginary creatures, and otherworldly beings haunt us with the ugly truth about what's right and wrong in the world.
Dex has an art show titled – + * running currently until February 24th, at Pablo Gallery at The Fort in Taguig, and was kind enough to answer some questions from me.