This post is part of a series of posts on artists, designers and illustrators making their way in the Philippines.
---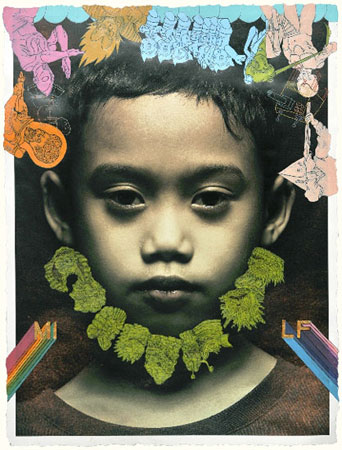 Right: The Man–Child. Popular cartoons flock the headspace of this eight-year-old boy, yet a beard amasses on his chin. This work displays the contradiction of a child mentally growing in an accelerated mental state that sprung from his exposure to adult activities and innuendos found in paraphernalia he is exposed to.
Dex Fernandez, a fine arts and advertising graduate from the Technology University of the Philippines, quit his job at an advertising firm to become a full-time artist. And the art world is better off for it. His art transports the viewer to another land—a tea-stained technicolor mash-up of the darling and the sinister—where both children and adults play with imaginary creatures, and otherworldly beings haunt us with the ugly truth about what's right and wrong in the world.
Dex has an art show titled – + * running currently until February 24th, at Pablo Gallery at The Fort in Taguig, and was kind enough to answer some questions from me.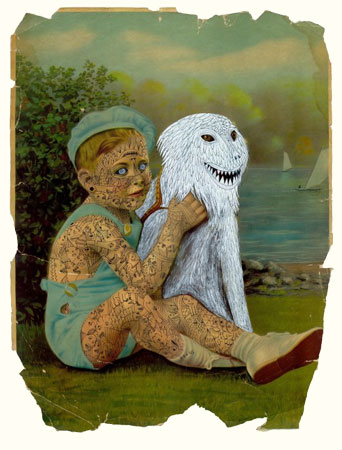 What was home life like growing up?
I grew up in Caloocan City until I was 23, and when I was 24 I left my family house and lived on my own in Cubao. Currently I'm living in Manila, together with some fellow artists.
Tell me about your job before you became a full-time artist.
I used to work as a graphic artist for a large printing company, then I worked overseas as a muralist. When I returned to Manila in late 2007, I decided to forgo the typical day job and become a full-time artist.
What kind of messages do you hope people get from your art?
My subjects, mostly, are stories of people I've met, or my everyday life experiences. I try to help my audiences feel and observe what's happening in their surroundings, both socially and politically.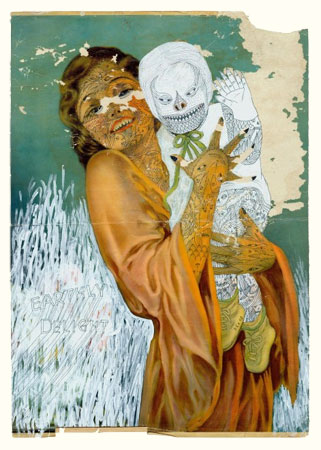 How does your history in advertising influence your artwork?
I love graphic design, and when I quit my job I never wanted to lose that quality in my own work, so I try to incorporate it in everything I produce, whether they're paintings, drawings, or poster art.
Who and what are you influenced by?
I love foreign artists. I really love low brow art, art brut-like outsider art, tattoos and poster design.
What is your workspace like?
My bedroom is my studio. I improved the space a bit so I could make my stuff more freely and creatively, but it's just my bedroom.
We all sometimes hit a creative block where it seems like we're completely void of ideas. What do you do to overcome that?
I'll watch movies, browse art books, or search online for inspiration. Sometimes I'll chat with friends. Meeting new people and chatting with them helps widen my knowledge of the world, so I get a lot of inspiration and ideas from that. I love asking questions.
How do you keep your ideas fresh?
I doodle in my sketchbook non-stop. My sketchbook serves as a bank of ideas I can use in future pieces.
What do you do when you're not making art?
I love hanging out with friends in Cubao X, drinking and conversing. Sometimes, though, I just stay in my studio, reading books and magazines. Especially when I don't have much of a budget.
Do you listen to music when you're creating?
I can't live without it!
Tell us about your art show currently running at Pablo.
It's called – + * and the birth of each artwork is a representation of mine, and other people's beliefs, stands on different social issues, one's lies, deceptions, empathy, grudges, the highs and lows of faith and politics, little monsters we've been keeping inside ourselves, universal mysteries and nakedness, and mush, as it may sound, the love that always enters the picture. From my parents' visual rendering, to friends' portrayal of other people's imaginings, my paints, the stroke of my pen, threads stitched, and paper cutouts intertwined with their lives.

In math, plus and minus signs represent the notions of positive and negative, as well as the operation of addition and subtraction. On my part though, the + sign signify additional perceptions we have over the things surrounding us. We apply the – sign when we tend to judge these things and people, therefore, stealing whatever is left of them. If we interject an * in between, we give birth to new tales, new characters, and new settings to a passé world. Whatever symbol we might stumble upon, be it an asterisk, a minus or plus sign, why not peek deeper into it and discover something new? Because what you don't know just won't hurt you.
What would you recommend to an aspiring young artist who wants to see the same kind of success you've seen recently?
Just stay humble, and don't forget to talk to God. Thank him for his kindness… Bad or good, it's all in His will.
Any plans for the future?
I want to travel west, maybe to Europe. I'd like to buy some vintage posters from the '50s or '70s. Music or film posters. Pin-up girls.
---
Dexter Fernandez's solo art show, – + *, is currently on display through February 24th at Pablo Gallery at The Fort, in Taguig, Philippines. Pablo Gallery is open Tuesday to Saturday from 12:00 to 8:00 PM.
Location: Pablo Gallery, Unit C-11, 26th Street, South of Market Condominium,
The Fort, Bonifacio Global City, Taguig.
Tel.: (02) 9863887
Email: fort@pablogalleries.com
---
Add a Comment