This post is part of a series of posts on artists, designers and illustrators making their way in the Philippines.
---
Kristy Anne Ligones, also known as KDLIG, is a master of vectors. When I first came upon her work, it was hard to believe that she didn't just run her photos through an automatic vector tool. Except they were too good to have been created by a machine, too much care had been put into crafting portraits that accurately captured the personality of the subject. We're pleased she took the time to answer some of our questions.
You're originally from Cagayan de Oro, right? What were some of your favorite things about CDO?

Yup, CDO is my hometown. My favorite things would be the simplicity of the place; not that much garbage or traffic, and not too crowded either, unlike the giant cities. Though I consider Cebu as my second home and the city I love the most, CDO is still my comfort zone.
You currently live in Dubai. What made you leave the Philippines?

In the Philippines, I was struggling with freelance jobs. I'd become a full-time freelancer and had some mishaps working with some big-name companies in Cebu, wasn't lucky enough to land at the right place to work, and graphic artists in the area were only getting paid minimum wage at the time. When the opportunity came, a friend in Dubai sent me a facebook message that there's an ad agency hiring an illustrator, so I sent my CV immediately, and quickly got a response back that they wanted to hire me right away.
How do your roots influence your work?

Maybe our culture on believing in superstitions and enchanted creatures led me to create my own imaginative characters as well. My grandma and older cousins used to tell my sister and I strange stories, and we used to beg them to tell us more.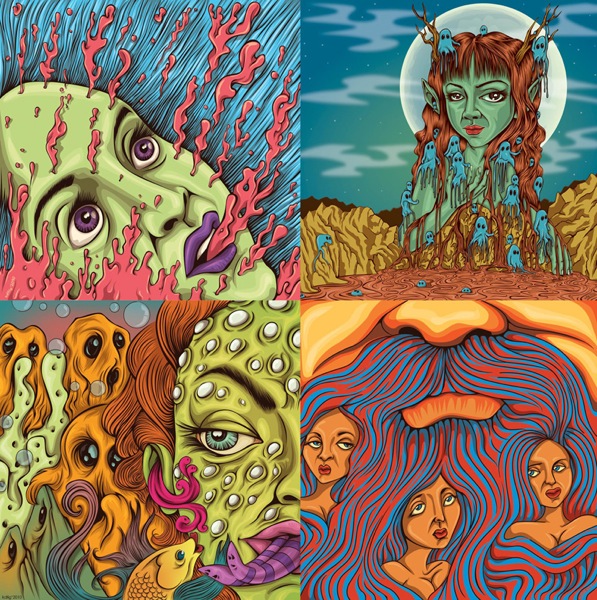 What led to your original interest in art and illustration?

When I was young, I was very much alone and the neighborhood kids didn't want me around, so I was left with some paper, pencils and crayons, and I started trying to copy illustrations from my sister's textbooks. As far as I can remember, my drawings were still crappy during my younger years, but it didn't stop me from continuing on achieving my goals of being an illustrator. During my high school years, I got more interested, and took some summer art workshops.
How'd you get so good?

Practice and Patience, the two P's I'm proud to have. Without them, who knows where I'd be right now.
What were some obstacles you faced along the way?

Dealing with unpaid jobs, and trying to confront the clients who didn't pay me. Also juggling jobs with a personal life. There was a time I got hospitalized; numerous sicknesses, dengue fever, other stuff, and the doctors advised me not to overwork myself. I'm trying to be more careful with my health now, because I hate hospitals.
What's the best gig you've had? Any work you're particularly proud of?

Although today it wouldn't be as big a deal since it's easier, and more online competitions have been popping up, winning threadless was probably my proudest moment, since I really wasn't expecting it and don't consider myself the winning kind. The latest project I'm most proud of was being chosen to create the Manny Pacquiao poster for the launch of the Nike Trainer 1.2, which was displayed at Niketown New York.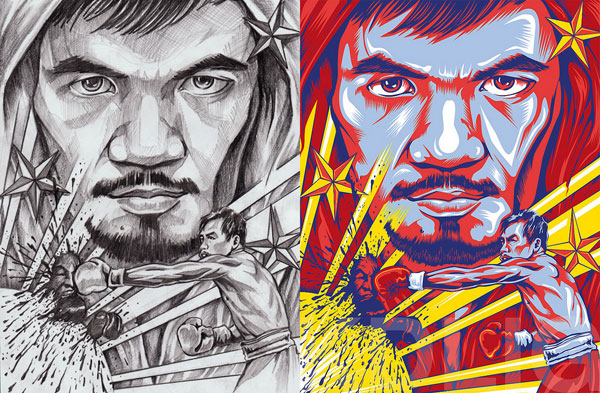 What other illustrators inspire you?

I'm a big fan of pop surrealism, and even the surrealism paintings of Dali and Kahlo. Illustrators from that area are very influential to me, like Tara McPherson, Alex Pardee, James Jean, Amy Sol, Audrey Kawasaki, Sylvia Ji, and more. They have so much freedom in their work. It brings joy to my heart to see the works of these artists.
What inspires you outside the design world?

I'm totally into graphic novels these days; other people's stories and illustrations inspire me and keep my imagination flowing. Random everyday things I see on my travels, every song in my playlist, these things inspire me. Visiting bookstores, exploring indie music and films.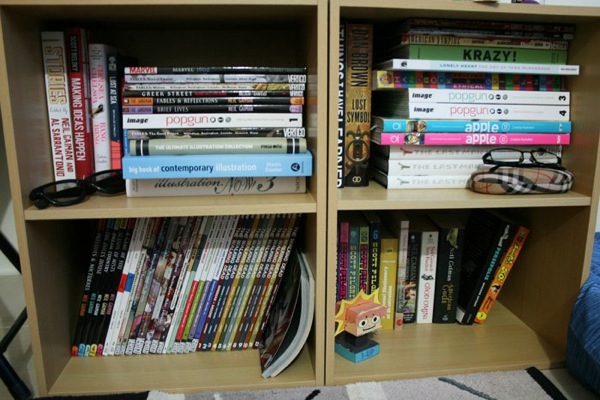 What's your creative process like?

Stewie Griffin's semi-realistic illustration vector process from Kristy Anne Ligones on Vimeo.
How do you avoid creative block?

I always have books and graphic novels around me, music to listen to, some feel-good movies and videos to watch. Walking is also a good thing when I need to think, it just makes my ideas flow. Dreaming as well. I need to record these things on my mind or list them in case I need them later in times of a creative crisis. Even if they're nowhere near what I was aiming for, at least from these things I can create a connection to the idea I've been wanting to fill the void.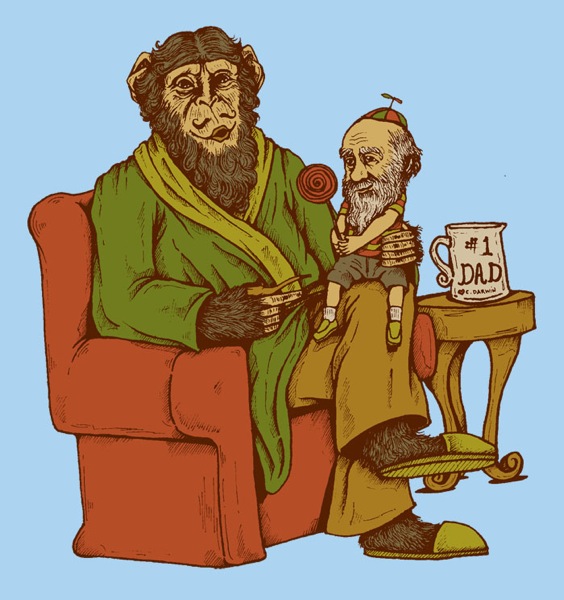 Anyone you'd like to collaborate with?

I've done a lot of collaborations, and there are a lot of artists I'd love to collaborate with. It would be nice to work alongside some of the artists that were featured along with me in Rogue Magazine. I'm open to anyone who's interested.
What's next for you? Anything cool in the pipeline?

I'll be part of an exhibit here in Dubai at one of their prestigious universities, the American University of Dubai. It's an exhibition of illustrators for future illustrators. I'm also taking part of the first Comicon event here in the middle east. I'll be at the artist alley, probably selling some stuff, showing my portfolio, and might launch my first online comics there as well.

What are your goals for the future?

I don't have any definite goals exactly. Come what may, as long as I'm still making art and sharing them for the whole world to see, and representing my country well.
---
Add a Comment