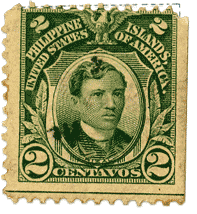 José Rizal, noted Filipino linguist, novelist, poet, scientist, doctor, painter, educator, reformer and visionary thought leader, turns 150 years old today. One of the t-shirts in our new shop, designed by Filipino artist Dan Matutina (interviewed here), was inspired by Rizal's quote, "Ang hindi marunong magmahal sa sariling wika, ay higit pang amoy sa mabahong isda." (Translation: "He who does not love his own language is worse than an animal and smelly fish.") Why not help us get our Center built by purchasing it?
Check out the shirt after the break, and read an English translation of Rizal's final poem, Mi Ultimo Adios (My Last Farewell).


Mi Ultimo Adios
by José Rizal, 1896, translated by Edwin Agustín Lozada
Farewell, beloved Country, treasured region of the sun,
Pearl of the sea of the Orient, our lost Eden!
To you eagerly I surrender this sad and gloomy life;
And were it brighter, fresher, more florid,
Even then I'd give it to you, for your sake alone.
In fields of battle, deliriously fighting,
Others give you their lives, without doubt, without regret;
The place matters not: where there's cypress, laurel or lily,
On a plank or open field, in combat or cruel martyrdom,
It's all the same if the home or country asks.
I die when I see the sky has unfurled its colors
And at last after a cloak of darkness announces the day;
If you need scarlet to tint your dawn,
Shed my blood, pour it as the moment comes,
And may it be gilded by a reflection of the heaven's newly-born light.
My dreams, when scarcely an adolescent,
My dreams, when a young man already full of life,
Were to see you one day, jewel of the sea of the Orient,
Dry those eyes of black, that forehead high,
Without frown, without wrinkles, without stains of shame.
My lifelong dream, my deep burning desire,
This soul that will soon depart cries out: Salud!
To your health! Oh how beautiful to fall to give you flight,
To die to give you life, to die under your sky,
And in your enchanted land eternally sleep.
If upon my grave one day you see appear,
Amidst the dense grass, a simple humble flower,
Place it near your lips and my soul you'll kiss,
And on my brow may I feel, under the cold tomb,
The gentle blow of your tenderness, the warmth of your breath.
Let the moon see me in a soft and tranquil light,
Let the dawn send its fleeting radiance,
Let the wind moan with its low murmur,
And should a bird descend and rest on my cross,
Let it sing its canticle of peace.
Let the burning sun evaporate the rains,
And with my clamor behind, towards the sky may they turn pure;
Let a friend mourn my early demise,
And in the serene afternoons, when someone prays for me,
O Country, pray to God also for my rest!
Pray for all the unfortunate ones who died,
For all who suffered torments unequaled,
For our poor mothers who in their grief and bitterness cry,
For orphans and widows, for prisoners in torture,
And for yourself pray that your final redemption you'll see.
And when the cemetery is enveloped in dark night,
And there, alone, only those who have gone remain in vigil,
Disturb not their rest, nor the mystery,
And should you hear chords from a zither or psaltery,
It is I, beloved Country, singing to you.
And when my grave, then by all forgotten,
has not a cross nor stone to mark its place,
Let men plow and with a spade scatter it,
And before my ashes return to nothing,
May they be the dust that carpets your fields.
Then nothing matters, cast me in oblivion.
Your atmosphere, your space and valleys I'll cross.
I will be a vibrant and clear note to your ears,
Aroma, light, colors, murmur, moan, and song,
Constantly repeating the essence of my faith.
My idolized country, sorrow of my sorrows,
Beloved Filipinas, hear my last good-bye.
There I leave you all, my parents, my loves.
I'll go where there are no slaves, hangmen nor oppressors,
Where faith doesn't kill, where the one who reigns is God.
Goodbye, dear parents, brother and sisters, fragments of my soul,
Childhood friends in the home now lost,
Give thanks that I rest from this wearisome day;
Goodbye, sweet foreigner, my friend, my joy;
Farewell, loved ones, to die is to rest.
---
Add a Comment